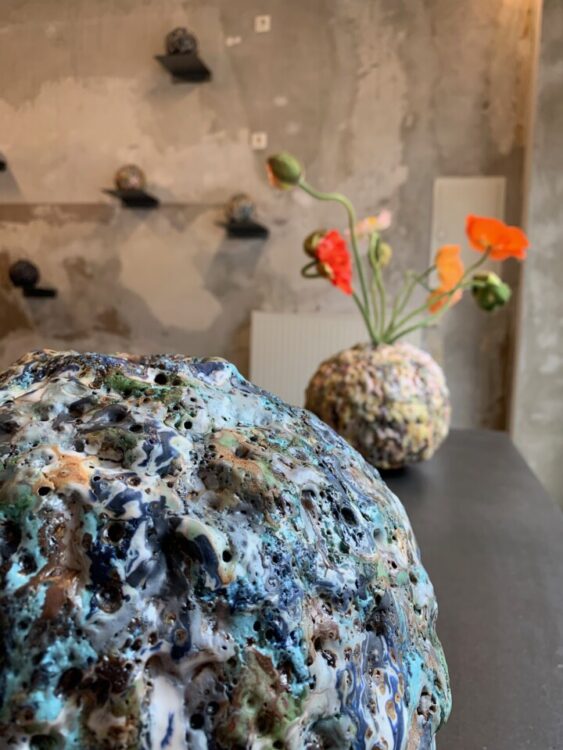 Pearls, Bombs & Moonjars
March 6-May 3, 2020
Brutto Gusto fine arts
Torstraße 175
10115 Berlin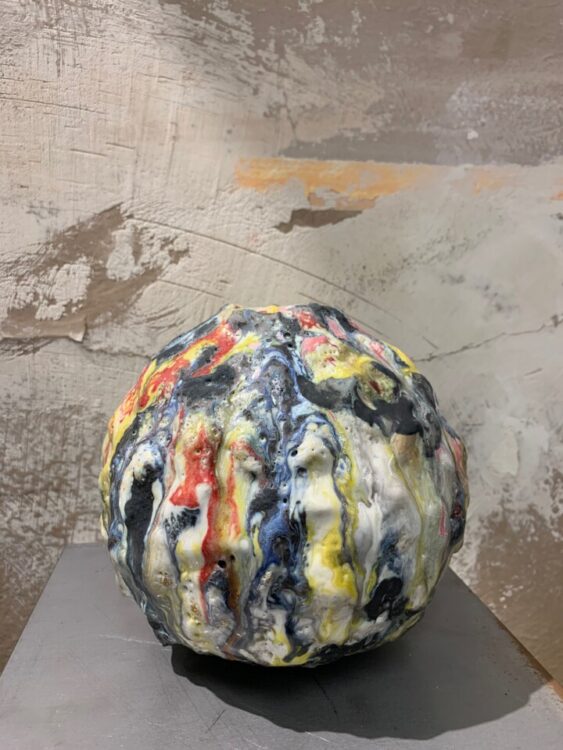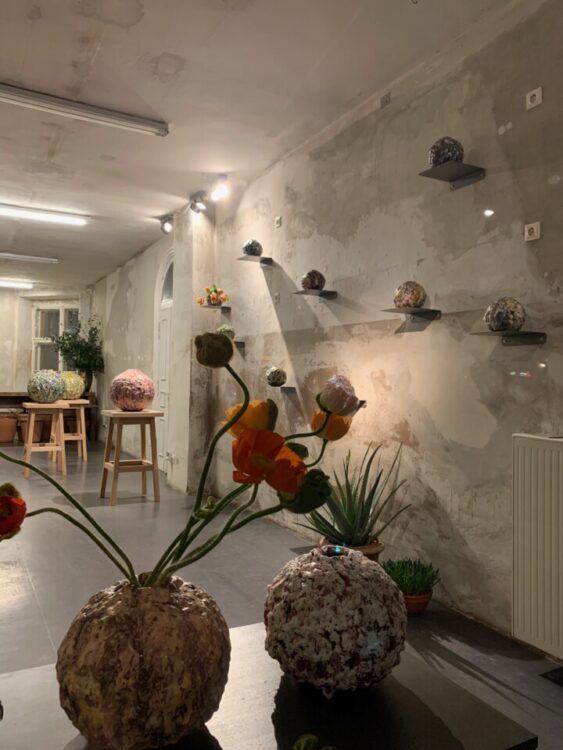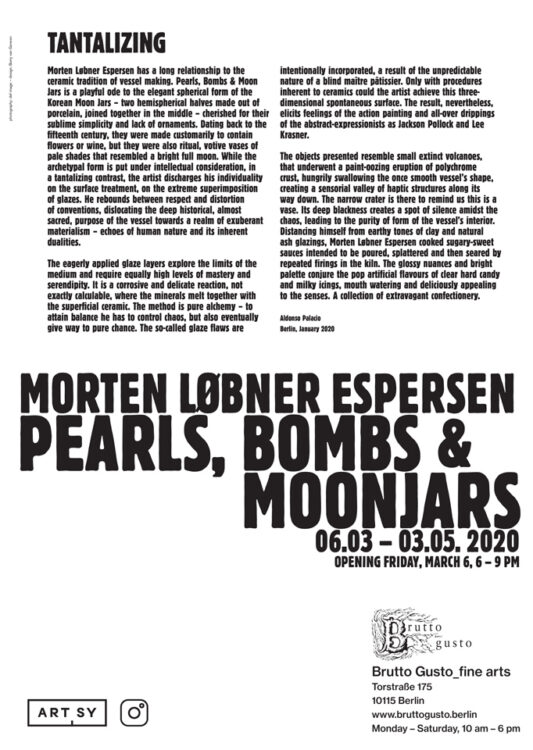 Morten Løbner Espersen has a long relationship to the ceramic tradition of vessel making. Pearls, Bombs & Moon Jars is a playful ode to the elegant spherical form of the Korean Moon Jars – two hemispherical halves made out of porcelain, joined together in the middle – cherished for their sublime simplicity and lack of ornaments. Dating back to the fifteenth century, they were made customarily to contain flowers or wine, but they were also ritual, votive vases of pale shades that resembled a bright full moon. While the archetypal form is put under intellectual consideration, in a tantalizing contrast, the artist discharges his individuality on the surface treatment, on the extreme superimposition of glazes. He rebounds between respect and distortion of conventions, dislocating the deep historical, almost sacred, purpose of the vessel towards a realm of exuberant materialism – echoes of human nature and its inherent dualities.
The eagerly applied glaze layers explore the limits of the medium and require equally high levels of mastery and serendipity. It is a corrosive and delicate reaction, not exactly calculable, where the minerals melt together with the superficial ceramic. The method is pure alchemy – to attain balance he has to control chaos, but also eventually give way to pure chance. The so-called glaze flaws are intentionally incorporated, a result of the unpredictable nature of a blind maître pâtissier. Only with procedures inherent to ceramics could the artist achieve this three-dimensional spontaneous surface. The result, nevertheless, elicits feelings of the action painting and all-over drippings of the abstract-expressionists as Jackson Pollock and Lee Krasner.
The objects presented resemble small extinct volcanoes, that underwent a paint-oozing eruption of polychrome crust, hungrily swallowing the once smooth vessel's shape, creating a sensorial valley of haptic structures along its way down. The narrow crater is there to remind us this is a vase. Its deep blackness creates a spot of silence amidst the chaos, leading to the purity of form of the vessel's interior. Distancing himself from earthy tones of clay and natural ash glazings, Morten Løbner Espersen cooked sugary-sweet sauces intended to be poured, splattered and then seared by repeated firings in the kiln. The glossy nuances and bright palette conjure the pop artificial flavours of clear hard candy and milky icings, mouth watering and deliciously appealing to the senses. A collection of extravagant confectionery.
Aldonso Palacio
Berlin, January 2020